FLUSH INK PRODUCTIONS 2011 submissions are closed
except for UnHinged.
2012 SEASON – SHE SPEAKS & ASPHALT JUNGLE SHORTS - below
<![if !vml]>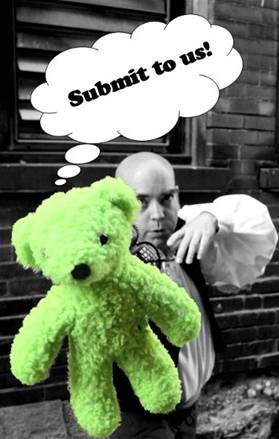 <![endif]>
She Speaks * Asphalt Jungle Shorts * UnHinged

First things.


- submissions@flushink.net
- If you are submitting for more than one event, please do so in separate emails.
- Please send two copies of your play - one with your name and info on it, and another without - this will make the reading process so much easier.
- In the subject of your email, please state what show you intend the piece for.


All of these productions will take place in Kitchener, Ontario, Canada - about an hour west of Toronto.

UnHinged
The Dark Side of Sit-Specific Theatre - Submission deadline - July 31 2011.

Dates of shows November – 17, 18, 19, 24, 25, 26, 2011.


PLEASE NOTE - We have changed the 'feel' of UnHinged.
We are looking for daring - disturbing - dark - dangerous - edgy - experimental plays, performance piece, et al.
Did we mention disturbing?

<![if !supportLineBreakNewLine]>
<![endif]>
Nothing cheerful. Nothing sweet. Dark humour is more than welcome.


Similar to a Fringe Festival in it's structure, UNHINGED has a different focus. Most of the festival will be Site-Specific Theatre & Bring Your Own Venue.
SO YOU ARE PRODUCING YOUR OWN SHOW.

We are not just looking for theatre pieces, but will consider performance art, dance, film –
basically live performance genres with multimedia/multi-art aspects.
The plays/pieces will be chosen by a reading committee as the venues require some serious logistical considerations.

If you're a company, and have a piece that you've already produced, bring it here.

If you're a playwright and you have a piece you want to see 'up', find yourself a director (we may have some available from this end).

If you're a director, and haven't found that perfect venue for something you love, we might be it.

Located an hour west of Toronto, an hour east of London, an hour and a half north-west of Buffalo, Kitchener is a mid-sized city where art is thriving everywhere.
This is the festival's fourth year, but the first year with the darker theme.  We are only looking for to 8 pieces.


DEADLINE FOR APPLICATIONS: July 31 2011–
APPLICATION PDF FORM HERE


WHAT WE PROVIDE


• An exciting and innovative festival event in downtown Kitchener
• A minimum of 4 scheduled performances
• Two levels of plays/payment/admission (A: 20-40 min. B: 40-60 min.)
• Site Facilitator – (someone to secure the best possible place for your performance)
• Box office, festival volunteers, ticket sales.
• Up to two hours for technical rehearsal
• A 60 word listing/graphic in the Unhinged Program
• Blanket Festival Promotion
• Contact list for local media
• 100% Box office receipts (A plays - $7.00, B plays $12.00)
Note: There will be a day pass available where the companies will share the receipts.
• Limited availability of site electricity


WHAT YOU PROVIDE
• A fully produced show, ready to be viewed by an audience.
• Contact information – including email/snail mail address
• Tech and promotional material submitted before deadlines.
• All your food, travel, work permit (if required), production, royalty, union fees, and artist fee expenses.
• Your own show-specific promotional materials (posters, flyers) which you distribute.
• Specialty technical equipment (ie. Projectors, monitors, lapel mics, keyboards, fog machines)
• An electronic submission submissions@flushink.net and two hard-copies mailed to Flush Ink Performing Arts, 24 Wellington St. N., Kitchener, On., Canada N2H 5J4
• A fee of $150.00 for A plays & $300.00 for B plays


PLEASE NOTE: In deference to the playwright, we have excluded the usual reading/administration fee.
This is styled like a fringe festival, so there is a fee, which is not a reading/submission fee, but the regular fee...the individual Company takes the box office.


Here is a link to the city, if you'd like to get a feel for it.


http://www.kwtourism.ca/

<![if !supportLineBreakNewLine]>
<![endif]>
UnHinged – Deadline July 31 2011

<![if !supportLineBreakNewLine]>
<![endif]>
SHE SPEAKS - Deadline Dec. 31 2011

ASPHALT JUNGLE SHORTS VI - Deadline Jan. 31 2011.



Questions – info @ flushink.net


Submissions - submissions@flushink.net


Please put in your subject line –

SHE SPEAKS - ASPHALT JUNGLE SHORTS or UNHINGED
<![if !supportLineBreakNewLine]>
<![endif]>
SHE SPEAKS
Submission deadline Dec. 31 2011
Flush Ink Productions
Celebrates International Women's Day with...
SHE SPEAKS
An evening of staged readings of Women's work.
March 2012

We are looking for short plays - under fifteen minutes, or a scene from a longer play that can stand alone.
The plays must be written by women and preference will be given to members of The International Centre for Women Playwrights (ICWP),
and those committed to attending the readings, as we will have a Talk Back session following each act.

No one will be paid for this event, as it is a fund-raiser for ICWP and WOMEN IN CRISIS IN THE WATERLOO REGION.


Ideally, the playwright would be responsible for casting and rehearsing.
As we've done plays as far away as Australia, we often choose to 'SKYPE' the play.
We have many directors and actors available.


Some props, some staging, some costume, but books must be in hand.
It's important the audience always know these are readings and not staged productions.


http://www.youtube.com/watch?v=8x9qvjAxNoE

Any questions? playwright@skyedragon.com

Please state in your email whether or not you'll be attending, and whether or not you are an ICWP member in your email.
<![if !supportLineBreakNewLine]>
<![endif]>
ASPHALT JUNGLE SHORTS VII
Deadline Jan 31, 2012

Asphalt Jungle Shorts VIII 2012 (May/June)


If you don't know what it is....look here.
http://www.youtube.com/watch?v=1-DcBUXfRxY

http://www.youtube.com/watch?v=CA5KBOTM4n4

http://www.youtube.com/watch?v=64imdBbR9tQ

Those will give you a few ideas.

We need plays. Short plays. One minute to ten minutes....fifteen if it's incredible.

This is site-specific theatre. We're looking for plays that feel as if the audience is sneaking around downtown, spying on people.
Those are the ones that work the best...when people aren't sure if it's a play or not...and believe me, there've been a few that the audience crowded to watch that were not plays.
We like the odd...well, odd absurd piece, but no period pieces.
No plays set in apartments/condos/houses/front porches. Really, no longer than ten unless it's really freakin' incredible.
Think of where and how long the audience has to stand to watch your piece. 6 minutes and they get a bit fidgety.

Here is a link to the city, if you'd like to get a feel for it.

http://www.kwtourism.ca/

We are taking a different route this year. Here are a some ideas for sites...

- Fire escape
- Shoe store
- City Hall (There is a huge fountain outside)
- There are some tiny parks - green spaces
- On the street
- Art Gallery
- Empty store (could be anything)
- Bar (we usually end up in a bar where we can ply the audience with drink)

-Library
-Art Gallery
-Police Station
-Parking Garage
Notes - The hospital is too far to walk to. There is no industry downtown.


For a cyber tour of a show, go here

http://www.flushink.net/tourIII.html


Past shows here.

http://www.flushink.net/AJS.html

As a playwright, I have produced this event with the playwrights much in mind.
I connect each director with their playwright, so they are working together.
The playwrights are part of the process and through this way of working, we have forged some wonderful playwright/director relationships.


$$$ The royalties are a dollar a minute a night $$$ (a ten minute play will net $90.00 over the run of the show)
PLEASE LET US KNOW IF YOU WANT TO BE ON THE
ACTOR'S and/or PLAYWRIGHT'S LIST
TO BE INFORMED OF UPCOMING AUDITIONS/SUBMISSIONS...
Info @ flushink . net
_
Join us on facebook to keep up.
<![if !vml]>

<![endif]>