NEWS & REVIEWS
2010
Congratulations to the 2009 Arts Awards Winners.
The Awards Ceremony took place at the Centre In The Square on Sunday, June 6, 2010.
<![if !vml]>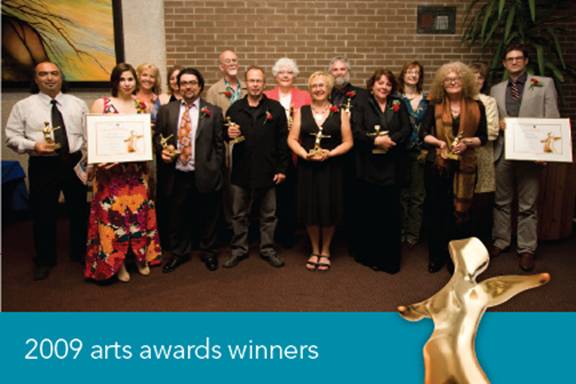 <![endif]>
Front Row:
Azam Fouk Aladeh of Multicultural Cinema Club Film Festivals (Festival or Event); Meghan Bunce (Leading Edge); Majdi Bou-Matar IMPACT (Special Jury); Ernest Daetwyler (Visual Arts); Judy Allred (Mentor), Paddy Gillard-Bentley of Flush Ink Productions (Performing Arts), Jean Narveson (Open)

Back Row:
Cheryl Lescom (Music); Heather Majaury, IMPACT (Special Jury); Boyd McDonald (Lifetime Achievement); Maxine Graham (Special Jury); Jack Cole of The Old Chestnut Song Circle presents Folk Night at the Registry (Festival or Event – Community Achievement); Charmian Christie and Lisa O'Connell of Pat the Dog Playwright Development Centre (Literary); Brad Cook (Leading Edge)

Missing:
Kathleen Bissett (Textile, Fibre, Quilting), Gerry Remers of Christie Digital (Corporate Arts Supporter), New Hamburg Live! Festival of the Arts (New Festival or Event)
performing arts | HEMMERICH FLANAGAN PERFORMING ARTS AWARD

Flush Ink Productions

Flush Ink Productions, challenging the boundaries of traditional theatre since 2006,

has established four unique projects; She Speaks, women's work, women's words; Unhinged, Kitchener's Festival of Site-Specific Theatre; Urban Scrawlers, promoting playwright development; and its signature event, Asphalt Jungle Shorts.

UNIVERSITY OF WATERLOO BULLLETIN

The Magnetic North theatre festival winds up this weekend, with performances and events too numerous to mention. But here's one of them: "One of the acts participating in this year's program," I'm told, "is Flush Ink Productions' Asphalt Jungle Shorts, a different kind of theatre that takes place in a variety of locations during a walk through Kitchener's downtown. The artistic director is Paddy Gillard-Bentley, a FASS alumni of years past. We also can claim current undergrad and theatre veteran Jessalyn Broadfoot, and new staff member Dr. Bruce Wolff as cast members. Shows run Thursday, Friday and Saturday nights this week and next. Meet up at the Silver Spoon in Downtown Kitchener (right across from City Hall) at " Right on the Waterloo campus, there's "Elephant Wake" in the Theatre of the Arts tonight at and Saturday at . And there's a directing class Saturday at in, I think, Studio 180 of Hagey Hall. Festival details are online.

<![if !vml]><![endif]>
2009
COLIN HUNTER
RECORD STAFF
May 19, 2009
Call it theatre without a theatre.
Embracing the Shakespearean notion that "All the world's a stage," a group of actors will soon hit the streets of downtown Kitchener for a showcase of site-specific plays.
It's the fifth installment of the ever-growing Asphalt Jungle Shorts series, an interactive theatrical event that requires the audience to meander from one non-stage to the next.
Starting Thursday, the eight-night festival will see a dozen actors scattered throughout downtown sites stage 15 short plays. Some plays are barely a minute long; the biggest of the bunch is only 13 minutes.
The audience will know almost nothing about the sites or the plays in advance, except that they'll meet at the Kava Bean Commons shortly before showtime, ideally in comfy footwear. The element of surprise is a key component in the success of Asphalt Jungle Shorts. A play could suddenly begin unfolding on a fire escape, down a back alley, in a storefront window or right beside you.
Occasionally, the city itself provides the drama, such as when a pair of police officers arrested a belligerent man along the walking route of Asphalt Jungle Shorts. The audience assumed it was a play -- and they were quite enjoying its gritty realism -- until they were ushered away.
"Not only (does the) city become a set, but it becomes a character," says Paddy Gillard-Bentley, who founded Asphalt Jungle Shorts nearly four years ago. "The lines of reality and imagination are blurred."
Gillard-Bentley won't disclose the sites chosen for this year's plays, except for one: the clock tower in Victoria Park. Israeli playwright Yohanan Kaldi penned his play Towering Passion specifically to be performed there.
Other sites are anybody's guess. They could be anywhere. One play during a previous Asphalt Jungle Shorts unfolded a storey beneath street level as the audience watched from directly above through a large metal sidewalk grate.
To keep audiences guessing throughout the evening, programs are only handed out at the end of each show.
Asphalt Jungle Shorts
Starts at Kava Bean Commons, 24 Gaukel St. (across from the bus station)
May 21-24, 27-30
Tickets are $15, and audiences are asked to arrive 15 minutes prior to show time. For reservations and more information, visit www.flushink.net or call 519-744-9708
2008
Lost in the jungles of Kitchener
Duncan Ramsay
This is, by far, the most difficult review I've ever had to write. Not because I'm not capable of telling you exactly how wonderful Asphalt Jungle was. Because I can. It's just that I can't.
I should explain.
Asphalt Jungle Shorts III is, as theatre goes, a fairly unique experience. Upon ordering your ticket, you are given three things: a time, a location and advice to wear walking shoes. Beyond that, the production is a mystery; you have no idea who the actors are, where the stage is, or even what the basic plotline may be.
From that first location, you find yourself whisked off into a place where the lines between life and art begin to blur. Pieces of the play can take place anywhere; on the street, in buildings, above you, below you, even beside you as you wander through the heart of the city.
You get this weird, Alice in Wonderland sort of sensation, because you're no longer certain about the reality of city around you. Is that homeless person on the street up ahead an actor? How about that stairwell; is that the next stage? And while sometimes you might spot the next piece of the puzzle, most often you are kept off-guard, guessing, wary. It's such an effective blurring that in a way, even the ordinary denizens of the city become part of the theatre.
As the production wends its way through the city, random passersby will, unknowingly add their contributions to the production, subtly changing it night after night.
Even the gawkers who simply stop to stare add to the production in their own way, because for this short time they are the stage; a living, organic backdrop to a fiction that makes its home in reality.
This then is why I must leave you so completely in the dark. The heart of this play lies in its mystery, and to pass on even the smallest portion of what is to come would break the spell that is so essential to the evening.
When the play first began, I had no idea I was in the centre of the opening scene until a minute or so after it started, when I realized that the first set of actors were chatting directly over my shoulder.
These smooth segues between theatre and reality continued throughout the night, and often the two meshed together in unexpected ways. Over the course of the evening I heard civilians heckling the actors, saw a teenage guy hand one of the lead actresses a condom (Yes, really) and watched as various vendors hawked their wares to the audience. Asphalt Jungle is appropriately named; you're exploring through uncharted territory, and anything could leap out of the bushes.
Of course, I wouldn't be doing my job as a reviewer if I didn't discuss the nuts-and-bolts of the play, and on this score, Asphalt Jungle does fairly well.
Acting ranges from solid to very good throughout the play, with occasional hints of over-acting among some of the younger actors. Particular highlights included Jennifer Cornish's comedic acting, Katharine Mills in her ongoing role and Kristopher Bowman in an episode of really well executed physical comedy.
One of the more interesting aspects of the play was that it brought together a wide variety of playwrights and directors, and this is evident in the eclectic nature of the various scenes, which range from pure drama to physical comedy.
The writing itself once again ranged from solid to excellent, and surprisingly included a number of more experimental pieces, which worked well within the slightly surreal atmosphere of the production.
The writing was not without its problems however, most of which stemmed from the setting of the play itself.
Certain scenes that would pass without comment on a stage seemed very written in the open air, mainly due to the contrast between the theatricality of the writing and the reality of the setting. Most of these scenes made up for this theatricality with their native wit, but I found the second and third scenes particularly rankled.
Thankfully though, they were short and lonely amidst the rest of the play. I was also very impressed by the way certain directors (namely Paddy Gillard-Bentley and Tracey Kenyon) made use of distance, angles and pedestrian traffic to camouflage actors from the audience until their scene was well under way, adding to the audience's perplexity and enhancing segues between scenes.
I do wish I could have seen a bit more improvisation in the dramatic scenes to better match certain heated dialogues to their very public settings, but I think that this was more a symptom of the need to make sure the audience heard, than any fault of the cast and crew.
Overall, Asphalt Jungle was a well-executed and solid production with wit, verve and a great deal of fun.
So there you have it. I wish I could say more, but my hands are tied by the nature of the production, and in the end it isn't really necessary. You should see Asphalt Jungle not because of its plotlines, but the experience it creates.
Maybe you'd like to know more, but you'll just have to trust me. Go. Lose yourself in the jungle.
2007
ASPHALT JUNGLE TAKES IT TO THE STREETS
<![if !vml]>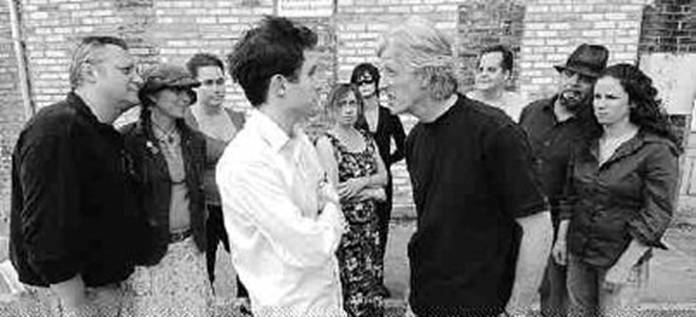 <![endif]> 
The cast of Asphalt Jungle Shorts uses the textures and venues of downtown Kitchener to offer a theatrical surprise.
MATHEW McCARTHY, RECORD STAFF
September 08, 2007
COLIN HUNTER
RECORD STAFF
KITCHENER
Where can you go to watch 15 unique plays all in one night?
It's a secret.
What plays can you see?
Can't say.
When can you see them?
OK, that part can be revealed.
Starting Wednesday and continuing through Sept. 22, you can go . . . somewhere . . . in downtown Kitchener to enjoy an unusual night of theatre.
The secrecy is an important part of the show, Asphalt Jungle Shorts.
The experimental theatre project, now in its third production since last September, stages short plays at secret locations around downtown Kitchener.
The audience walks from one unusual venue to the next, thus turning the entire downtown into an impromptu theatrical space.
To give away the plays and their locations would spoil some of the fun.
What artistic director Paddy Gillard-Bentley will divulge, however, is that the upcoming incarnation of Asphalt Jungle Shorts is the most ambitious and surprising yet.
"It's such a different kind of experience," she says.
"I want to make it the best I can, and the way I can do that is keeping the mystery about it. I don't even tell my closest friends what's going to happen."
Half the time, Gillard-Bentley herself doesn't know what will happen. For instance, last year, audience members assumed (incorrectly) that a police takedown was all part of the show.
In a sense, downtown itself becomes a character in the short plays, and the actors must go with the flow when downtown steals a scene.
The plays of have been staged in back alleys, dumpsters, closed shops, hotels and City Hall.
This time, six directors and a cast of 12 will perform the 15 new plays, which Bentley narrowed down from nearly 300 submissions from playwrights around the world.
Among the directors are members of Lost & Found Theatre Kathleen Sheehy, Gary Kirkham and Richard Quensel.
The audience will be guided from one "stage" to the next by crew members, and Gillard-Bentley hopes it will help people appreciate downtown Kitchener.
"I love downtown, and I understand there's a need to reacquaint people with it."
For tickets and information on where to start the theatrical adventure, call 519-957-2228.
Breathing new life in city's 'energy block'
September 18, 2007
MARTIN DEGROOT
After about 40 or 50 years to get it right, The Mackenzie King Square may finally be receiving its makeover.
This is the "take-off" season: Over the last couple of weeks there have been various launch events in and around the square (also referred to as the civic district) in Kitchener that have some interesting connections with one another.
On Sept. 6 the spotlight was on the district itself: This was the first public presentation of a plan that proposes a major transformation of the block that contains the greatest concentration of cultural and civic institutions in the region: The Mackenzie King Square which is the area bounded by Queen, Ellen, Frederick and Weber streets.
It was a fairly low-key affair, with just a few invited guests -- some folks from the neighbourhood, along with people associated with the various cultural institutions involved, like the Kitchener Public Library, Centre in the Square, Registry Theatre, Kitchener-Waterloo Symphony, Grand Philharmonic Choir, and Kitchener-Waterloo Art Gallery.
As Centre in the Square general manager Jamie Grant explained in his remarks, back in the 1950s and '60s there was a grand, integrated plan for the area. But that vision was never fully realized.
The proposal is to finish what was started 30, 40 and 50 years ago. The first step in the planning process is an open, public invitation to "imagine the possibilities."
Go to the Kitchener Public Library, KWAG, Centre in the Square or City of Kitchener website, and you'll find links to background information, an online survey and a brief introductory video.
That video is a link to another event that took place the following day: the official public launch of a new local media project called CAFKA.TV.
The "imagine the possibilities" trailer is a CAFKA.TV production.
CAFKA.TV is the brainchild of the creative minds behind the Contemporary Art Forum, Kitchener and Area, the region's biannual contemporary visual arts celebration.
Part of the purpose is to spread the word near and far about CAFKA.07: Haptic, which will have an official launch of its own on Thursday.
The intention is also to supplement the limited coverage of local, national and international contemporary art in the mainstream media with something fresh and vital. But above all, if you click on CAFKA.TV you'll see the aim is to have fun.
There are some interesting synergies: CAFKA, building on a long-standing relationship with KWAG, now involved with the entire civic district.
These kinds of synergies were even more evident at an after-work season launch reception at The Registry Theatre last Thursday.
Almost all of the other civic district cultural organizations are involved in some way: The KW Symphony, for instance, is part of a Classics at The Registry series. KWS trumpeter Larry Larsen spoke about playing improvisational jazz with references to paintings provided by KWAG behind him on the stage.
Through The Registry, the connections extend to some of our most dynamic theatre arts ensembles: Lost & Found Theatre (which will be presenting Some Assembly Required on Oct. 25 through Nov. 3); the MT Space (Pinteresque/Exit Strategy, Nov. 15-24); Poor Tom Productions (The Anorak, Nov. 28-Dec. 1). The Old Chestnut Song Circle, which presents a Folk Night at The Registry series, and the K-W Children's Drama Workshop (Nuncrackers, Dec 12-16) can also be mentioned in this context.
It felt like a real celebration; there were very good energies in the room.
By all accounts, the energy was also flowing at the gala launch of a new era for the KW Symphony the following evening, the first regular season concert with conductor Edwin Outwater. I couldn't make it to that one, so I'm relying the Phil Bast's video coverage on www.therecord.com and Sandra Deefholts' review in Saturday's paper.
What I did do, though, is catch Asphalt Jungle Shorts III -- another presentation of a sequence of short plays -- 17 of them altogether -- performed on-site in various downtown locations.
The reference may be somewhat out of place here, although there are people in the current production connected to almost all the theatre groups mentioned above. But there is no civic district location, and the stage is the very antithesis of the world-class concert hall facilities at Centre in the Square: They are literally "taking it to the streets" here.
The main reason I'm mentioning it is that the run continues tomorrow through Saturday, so there are four more opportunities to see it, and this is my only chance to say "don't miss it."
The box office is in the K-W Book Store (308 King St W). The show starts at ; for tickets ($15/$5 eyeGO) call (519) 957-2228 or e-mail flush-ink@skyedragon.com. For more information, visit www.flushink.net.
Martin DeGroot is executive director of the Waterloo Regional Arts Council. He comments on arts and culture Tuesdays in The Record. You can reach him by e-mail at mdg@golden.net.
2006
 <![if !vml]>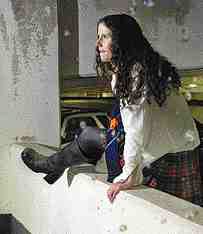 <![endif]>
Arlene Thomas plays Gina in
The Orange Whistle, one of
 the plays in Asphalt Jungle Shorts.
Colin Hunter
Downtown's a stage for 17 quirky plays
KITCHENER (Sep 16, 2006)
As night falls on the city, 20 strangers gather outside an empty downtown parking garage.  No one knows what to expect. A sign duct-taped to the wall reads Please Take the Elevator to the Fifth Floor. The strangers oblige.
The door opens, revealing a woman wearing a wide-brimmed hat seated behind a small table. She hands out lanyards and tells the strangers to wear them around their necks. A card dangling on each lanyard reads Asphalt Jungle Shorts. And it warns: Maybe Bring an Umbrella -- a caveat worryingly similar to the one given to people in the first few rows at Sea World. The strangers are ushered into a brightly lit, echoey expanse of the garage. A man hands everyone a folding chair from a blue van. In front of them, a young, lanky man tinkers under the hood of a car. He mutters to himself.
People whisper. When does the show start? Is this part of the show?  A downtown church bell chimes eight times.
Then: "I collect river water," blurts the man who was handing out chairs.
It is the first of many odd statements made in many odd locations as part of a very odd theatre production. A young woman in a Catholic schoolgirl uniform climbs over a concrete wall and asks: "Would this be the nightmare camp?"  Moments later, the guy tinkering with the busted car admits he often dreams that someone is trying to feed him poisoned sardines.  And that all happens in just the first five minutes of the two-hour theatrical experience.
Asphalt Jungle Shorts is theatre without a theatre. It's a roving production of 17 quirky, site-specific plays in which the city itself is the stage. It is the brainchild of Paddy Gillard-Bentley, a Kitchener playwright who had, as she puts it, "a wacky plan to do something different."
None of the plays is longer than 20 minutes. One includes just one shouted word.  The performances are strong and fittingly cracked, handled by mainstays in local theatre like Kathleen Sheehy, Heather Gurd and Gary Kirkham (in a particularly ludicrous role).
The first play, The Orange Whistle by Californian playwright Shirley King, is about a man stranded in a parking garage -- hence the setting. When it concludes (with a hilariously nightmarish twist), the audience is asked to follow the leader to the next location.
To reveal the locations would sabotage the impromptu appeal of the production -- but all are within a few blocks of the parking garage at Duke and Ontario streets where the show begins.  The scenarios change as drastically as the scenery. A touching piece about a woman preparing to remarry is offset by the a sketch in which an attractive young couple strip down to their skivvies and over-analyze their way out of what could have been a fun romp.  About that: You might not want to bring your kids to Asphalt Jungle Shorts. On occasion, it's as giddily lowbrow as it is low-budget.
Along with the 12 actors, downtown Kitchener itself becomes a kind of character, lending its own unique touches to an already surreal production. As audience members march from one "stage" to the next, stragglers tag along. Car horns honk, drunks holler and gawkers gawk. In one alley, the smell of garbage mingles with a hint of urine to evoke an almost-too-real sensory experience.
The scripted and unscripted elements compliment one another, creating a unique atmosphere that could never be duplicated inside a theatre.
As Shakespeare wrote, "all the world's a stage." Asphalt Jungle breathes new life into those words.
ASPHALT JUNGLE'S MOVING EXPERIENCE
MARTIN DEGROOT (Sep 5, 2006) Kitchener-Waterloo Record.
There are so many great things on the cultural calendar for the next few weeks that it's hard to know where to begin:
Opening night of the 2006-07 Theatre & Company season on Thursday and Friday.
Music in the Park with the K-W Symphony in Waterloo on Sunday afternoon.
The weekend of Sept. 23-24 looks especially rich, with the Cambridge Artist Studio Tour and Waterloo's Mary Allen Studio Tour happening over both days, plus the Royal Medieval Faire in Waterloo on Saturday and Kitchener's Word on the Street on Sunday.
Along with these returns, a brand new cultural event has been generating some buzz: the promotional material for Asphalt Jungle Shorts, a program of brief, site-specific plays performed in unexpected locations throughout the downtown, promises "theatre like Kitchener has never seen it."
The point of departure for each performance is the Duke Street Parking Garage (the one with the striking concrete helix between Queen and Ontario streets), from which audience members will be led, in "mystery tour" fashion, to a variety of locations within easy walking distance. Portable chairs will be provided.
The prime mover here is Kitchener playwright Paddy Gillard-Bentley, who has gathered around her a company of talented theatre artists from near and far known as Flush Ink Productions.
Asphalt Jungle Shorts includes some 17 plays by 11 playwrights, led by six directors, performed by 12 actors.
The list of directors includes many familiar names: Darlene Spencer, Heather Gurd, David Antscherl; Kathleen Sheehy will act as well as direct; Gary Kirkham is acting, directing and playwright for two of the offerings. Nicole Lee Quesnel is working as stage manager.
Part of the motivation is to animate the city centre: Gillard-Bentley loves the genuine urban feel of Kitchener's downtown, which is what the title Asphalt Jungle is meant to evoke in a lighthearted, wholly positive manner.
Although Gillard-Bentley has lived in this area all her life and cannot imagine working anywhere else, she has also been able to draw on an extensive network of professional contacts and get artists from as far away as California, Missouri and Ohio involved in the project.
All this is being done on a shoestring budget: A few business sponsors have come forward (most notably Jump Logistics of Cambridge), but most of the startup funds have come from the producer's own pocket. First and foremost, it is Gillard-Bentley's energy and hard work that allowed this project to happen, along with the dedication of the artists, who are all working on a profit-sharing arrangement.
It is also important to acknowledge the role of the City of Kitchener, which has provided critical resources such as help with insurance, printing and publicity.
Kitchener deserves praise for its ability first of all to recognize that a project like this is something worth investing in, and its willingness to follow through with a creative, flexible dedication of city resources to help make it happen.
The key here has been seasoned, knowledgeable city staff who are trusted with enough discretionary power to allow them to take some risks. It is a practice that has yielded the city and its citizens benefits of incalculable value over the years through cultural endeavours such as the Registry Theatre, Globe Studios, Open Ears, the Contemporary Art Forum, or the Tapestry celebrations of diversity.
This has been a subtle, slow development of something that become part of the way the city operates. It is something that might escape the notice of an observer like Glen Murray, the former mayor of Winnipeg, who has visited a few times, heard some reports, and reaches the conclusion an embarrassment such as the Forsythe demolition fiasco undermines the credibility of Kitchener's bid for a Cultural Capital of Canada designation for 2009. And he's probably right.
At the same time there's Asphalt Jungle Shorts, along with scores of other, often equally modest, but also equally creative, original, and therefore highly risky endeavours that the city has helped make happen. And that is evidence that can be cited to support the proposition that this community deserves, and that Canada would be well served by, a cultural capital designation that draws attention to the artistic achievements of the tri-city area, led by the City of Kitchener.
The showtimes for Asphalt Jungle Shorts: Sept. 14 to 16, 21 to 23. For more go to http://www.skyedragon.com/asphalt.html. Tickets $15 / $5 eyeGO. Audience size is limited, so reservations are recommended: Call 519-744-9708 or email flush-ink@skyedragon.com. For reserved tickets, please be there at least 15 minutes before show time to pick up your tickets.
Return To Asphalt Jungle Shorts
Return to Flush Ink Productions